I really like decorated walls: paintings, frames, kid's artwork. Unfortunately, I'm not all that creative and have to look for inspiration elsewhere. We've had bare walls since moving into our little home. Once, I put vinyl wall graphics in the boys' room and Big B did not like it at all. He asked us to take it down immediately. I was not discouraged by this little incident and decided to try again. This time around, I asked him which vinyl wall graphics he wanted.
We received the Aliens, UFO, Rocket, Spaceman, and Star Wall Decal Kit and the Submarine Underwater Wall Decal Kit 02 from Sticker Hub for review. To get Big B excited, I told him that I had a surprise waiting for him after school. That night, before bedtime, we unrolled the vinyl and he got super excited. Thank goodness! He peeled the stars and immediately started to put them on the walls. I was a little hesitant at him handling the vinyl. The previous vinyl wall decal I used was very fragile and tore when I tried to reapply. These vinyl stickers are well made and held up well with a preschooler handling them.
As Big B continued to decorate his wall, I had to help him. Otherwise, all the pieces would have been arranged in one straight line, like a tain (see Saturn, moon, and rocket ship below).
Wall decal placement
Kids' room

Kids' bathroom
Favorite features
High quality vinyl. I didn't feel like these were to fragile for kids to handle

Sticks to any type of paint

Removable so you can reapply anywhere; no worries about removing paste or making a mistake when decorating

Cute designs

Completely transforms the look of a room

Made in the USA
The price point of the Aliens, UFO, Rocket, Spaceman, and Star Wall Decal Kit is $27.99 and the Submarine Underwater Wall Decal Kit 02 is $30.99. These are such good prices for the quality of the products you get. My first wall decal kit, which I purchased almost five years ago, was almost tripple the price of the underwater kit and tore easily. If you are in the market for new wall decorations or stickers, Sticker Hub is highly recommended.
A little about Sticker Hub
Sticker Hub is a Mission Viejo, CA based printing shop. Whether for personal or business use, the company offers a wide variety of wall decorations and stickers. Their product line includes wall stickers, die cut stickers, wall graphics, vehicle stickers, and more. Additionally, customers can make their own custom made wall covering or sticker by uploading their design on the website. Sticker Hub used high quality vinyl, ink, and printers to provide excellent products at a competitive price.
Connect with Sticker Hub on Facebook and Twitter.
The Pitch List is offering one lucky winner their choice of a full kit.
Ente
r using the Rafflecopter form here. Giveaway is open until November 29, 2012 at 12:01 AM EST. Sponsor is responsible for prize award and not members of The Pitch List.
For complete rules on giveaways hosted on this blog, visit Giveaway Rules & Policy.
Good luck!
To see other Sticker Hub designs, stop by Pitch List members for their reviews.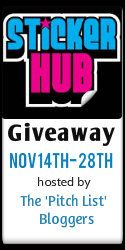 Disclosure: I was provided free products to facilitate the review. No other compensation was provided. All opinions expressed are my own.