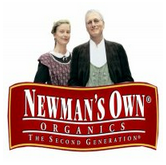 Consumers know that organic products such as produce, snacks, clothes, etc. are better. Why? Some find comfort in knowing that what they are putting in, and on, their body is all natural and free of pesticides or chemicals. Those who are eco-conscious like that organic products are grown with the earth in mind; grown with methods that conserve resource and reduce pollution. Organic snacks are not just good for the earth, but good for the tastebuds.
About Newman's Own® Organics
Newman's Own® Organics: The Second Generation®
began in 1993 by Nell Newman and Peter Meehan. Although consumers know the brand Newman's Own®,
Newman's Own® Organics
is a separate company that
completely
focuses on organic products. After the success of their pretzels, the
Newman's Own® Organics
snack line expanded to include items like chocolates, cookies, licorice, and dried fruit. In addition,
Newman's Own® Organics
also offers products such as coffee, tea, olive oil, balsamic vinegar, and pet food.
Newman's Own® Organics
products meet the USDA's National Organic Program requirements. This eco-conscious company also donates to educational and charitable organizations worldwide via the Newman's Own® Foundation.
We received a variety of
Newman's Own® Organics
snacks to review. Upon opening the package, I was pleasantly surprised to find so many goodies that I get to try. My whole family was in heaven; my son was just beside himself when he found out he was my helper tester. While unpacking and organizing, my helper had eyed and kept the chocolates for himself (he's kind of stealthy that way). Generally speaking, everything tasted good. We each have our own favorites, though the prunes were unanimously our least. Another thing is that the sweets weren't too sweet. From the chocolates to the cookies, they were all perfectly sweet for me. Even my mom who is sensitive to sweets enjoyed them.
Organic chocolates, need I say more? I love dark chocolate, it is my favorite type. A few years ago, scientific studies (not referenced) suggested that dark chocolates are healthy for the body by lowering blood pressure. I wonder how much healthier organic dark chocolates are? Regardless,
Newman's Own® Organics
dark chocolates were just the right balance of sweet and bitter taste. I thought my son would think they were too bitter, but not at all. In fact, he ate quite a bit of the 54%.
My husband's favorite chocolate candy is a peanut butter cup. The
Newman's Own® Organics
are definitely superior to his favorite brand, in my opinion. The chocolate outer has a low melting point and started melting as I was eating it, in a good way. The filling was smooth, silky, and delicious. I also like the size of the cups. They are a nice portion. I think 3 cups make a nice afternoon pick-me-up snack.
The cookies were yummy. The Orange Chocolate Chip was my favorite and my son preferred the alphabet. You can taste the flavor of the orange but it was subtle, not overpowering. It's actually the first flavor you taste once you bite the cookie, but not the only flavor that lasts.
It was fun and quite a learning experience for my son eating the alphabet cookies. Every letter he picked he had to name before being able to eat it.
I liked the pretzels. I think pretzels are a great snack: tastes good and low in calories. My favorite was the Mighty Minis. I do like a little more buttery flavor on my pretzels, but that didn't stop me from eating several servings of the
Newman's Own® Organics
pretzels.
The Hermits had a complex taste, for my tastebuds anyway. The flavors all worked well together. It's definitely something to try for adventurous snackers. The first time I tasted a fig cookie, I thought it was too sweet. That is not the case with the
Newman's Own® Organics
Fig Newmans. I love figs and am so excited that fig season is upon us. In the meanwhile, these cookies should do the trick to tide me over. Both cookies are soft and chewy goodness.
I am not a fan of licorice.

I don't know what it is about licorice that I don't like, maybe it's the licorice flavor itself.

Upon opening the package and finding 7 packs of licorice I immediately thought that my husband is going to be writing that review. I decided to try a flavor anyway, just to see how it tasted. I picked Strawberry. To my surprise, it's pretty good. It was soft, not too chewy, and just good. You can taste the strawberry, with a little hint of licorice. I am probably not going to be buying licorice any time soon. But if I did, it will be a
Newman's Own® Organics
.
My son couldn't have enough of the Newman-O's. I actually had to take the package away. I opened the peanut butter since it's a flavor that he is familiar with. These are yummy. There is just the right amount of filling inside. I don't know if I would be dunking these in milk, though. My husband had a different reaction when he bit into it. I think he was expecting something like a cream filled cookie, but he got peanut butter instead. He still liked it...well, he just likes anything with peanut butter.
My husband and I like plums. I don't know why we aren't fans of prunes. We like other dried fruits, just not so big on prunes. It is chock full of vitamins, minerals, and a good source of fiber. Well, hopefully it will grow on us.
The mints were great as a palate cleanser after all the sweets that I ate. I opted for the Wintergreen flavor. I am excited to try the other flavors. I've eaten ginger candy before, but not in mint form. I wonder how spicy the
Newman's Own® Organics
will be compared to the candy form?
I think this about sums up our
Newman's Own® Organics
experience.
A special thanks to
Newman's Own® Organics
for generously offering a snack prize pack to one of my readers. Visit other The Pitch List bloggers for a greater chance at winning your own snack prize pack.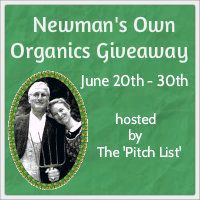 Prize
Organic snack prize pack including full size samples of 4 items.
Timeframe
Giveaway is open from June 20 - July 1, 2012, at 12:01 AM EST.
Rules
1.
Open to US residents, 18 years and older.
2. Enter using the Rafflecopter form below.
3. W
inners will be selected via
www.
random.org
(per Rafflecopter)
an
d notified by email. W
inners will have 48 hours to reply back before a new winner is selected.
4. Winner's entries will be verified. If I can not verify entries, a new winner will be chosen.
5.Newman's Own® Organics
will be responsible for fulfilling prize award to the winner.
For complete rules on giveaways hosted on this blog, visit
Giveaway Rules & Policy
.
Good luck!
Disclosure: I received free products as part of The Pitch List to facilitate my review. No other compensation was provided. All opinions expressed are my own.