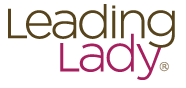 Prior to my pregnancy with Big B, I had no idea that maternity and nursing bras existed. Now, I am so thankful for them. I began wearing a maternity bra as early as my 6th week during the first trimester. It wasn't because I was outgrowing my pre-pregnancy bras, it was just because anything too tight made me nauseous. I had no idea where to buy them or the correct fit. Today, after all my research, I am now well versed with nursing intimate apparel.
About Leading Lady®
Frank Farino founded
Leading Lady®
in 1939. At the time, maternity and nursing bras were considered medical items, not the intimate apparel they are classified today. After 70 years,
Leading Lady®
continues to be a family owned and operated business that offers quality lingerie for mothers-to-be and new moms. Their product line includes sleep/leisure bras, full-figure bras, specialty lingerie, nursing camis, and accessories.
Leading Lady®
celebrates "Leading Ladies" through its products, programs, and philanthropic activities. The company is dedicated to supporting the physical, intellectual, and emotional needs of moms in their effort to breastfeed by contributing to women's organizations nationwide.
Image courtesy of Leading Lady®.
Image courtesy of Leading Lady®.
Image courtesy of Leading Lady®.
About Nursing Cami
Leading Lady® offers 9 different nursing camis and tanks for breastfeeding moms. These comfortable and stylish nursing apparel are enough as a stand-alone top or great for layering. They range from size small to extra large to fit a variety of shapes and figures. All camis have an inner sling for added support and come with a quick one-handed clasp for easy nursing. Tanks have an inner sling and built-in shelf bra and can easily be pulled down for nursing convenience. Prices range from $31.99 to $38, depending on the style and material.
Image courtesy of Leading Lady®.
Where to buy
Nursing camis/tanks
are available on the Leadying Lady®
website
.
Enter the
LLN 2012 giveaway
f
or a chance to win your own nursing cami.
Disclaimer: I was not compensated for this post. The company is generously sponsoring a giveaway. Information about the company and product were obtained from the sponsor's website. I received permission to post trademarked brand/logo and photos on my blog.