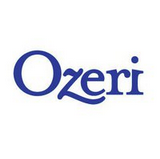 I enjoy cooking and would say that I'm a decent enough cook (but there's definitely a lot of room for improvement). However, I love cookware and kitchen gadgets. I may not use them all the time, but I know they are there when I need them. As I try to greenify my home, I discover products that help me with this process. One of my current favorite finds is an eco-friendly wok.
About Ozeri
Ozeri
manufactures household digital lifestyle products. Initially a supplier to destination markets (vacation residences, timeshares, condo hotel apartments),
Ozeri
products can now be found in hotels/resorts, spas, and private homes world wide. Their product line has also expanded to include kitchen (scales, thermo glassware, eco-friendly cookware, salt and pepper mills, electronic wine bottle openers), bathroom (scales), and health and fitness (pedometers) products.
Ozeri
offers high-quality products at affordable prices.
I received the Green Earth Wok™ for review. Let me just say that I don't bother putting this cookware away; it pretty much stays on my stovetop. The reason being is I get so much use out of this wok that I have used it everyday since receiving it. The Green Earth Wok™ has many features that I like. The first is that the side that touches my food is made of eco-friendly ceramic coating that won't emit fumes. A high quality non-stick pan (PTFE and PFOA-free) that doesn't emit fumes is always a good thing. Second, I don't use oil when I cook, thereby decreasing my fat intake. I've fried a variety of foods with this wok and nothing sticks; even egg. I made pasta last night (starting with frying the sausage) and used a tomato based sauce. After I put left-overs away, I left the sauce on the wok overnight. I wanted to test how easy it is to clean with caked on sauce. This morning, I filled the wok halfway with water and began to scrub with a soapy sponge. I did not soak it at all and the pasta sauce was gone; I didn't even use the scour side of the sponge.
When I received the wok, it was my husband who actually used it first. He really liked it and asked me what other cooking products
Ozeri
makes. I wish I could say how much the wok is, but I can't seem to find the price on their store or on Amazon. I did look at the price for other Green Earth products and they are very affordable. In addition to this wok, we only have stainless steel cookware. We got rid of our non-stick pans because the non-stick coating was degrading...definitely not a good idea to cook with something like that.
Overall, we love the Green Earth Wok™. It is eco-friendly, allows me to cook healthier meals, easy to clean and maintain, and is made of durable scratch-resistant ceramic.
Thanks to
Ozeri
for providing a price package to members of The Pitch List to give away to one lucky winner.
GIVEAWAY
Prize
1 Bathroom Scale, 1 Kitchen Scale, 1 Wok and 1Fan
Timeframe
Giveaway is open from July 12 - 22, 2012, at 11:59 PM PST.
Rules
1.
Open to US residents, 18 years and older.
2. Enter using the Rafflecopter form below.
3. W
inners will be selected via
www.
random.org
(per Rafflecopter)
an
d notified by email.
5. Ozeri
will be responsible for fulfilling prize award to the winner.
For complete rules on giveaways hosted on this blog, visit
Giveaway Rules & Policy
.
Good luck!
a Rafflecopter giveaway
Disclaimer: I was not financially compensated for this post. The brand/PR representative provided product samples for review purposes to members of The Pitch List. The opinions expressed in this post are solely mine and I was under no obligation to provide a positive review. I received permission to post brand trademarked logo and images on my blog.
Facebook is not associated, in any way, with this giveaway.